Red Blood Cell Biomarkers May Predict SCD Severity, Crisis Risk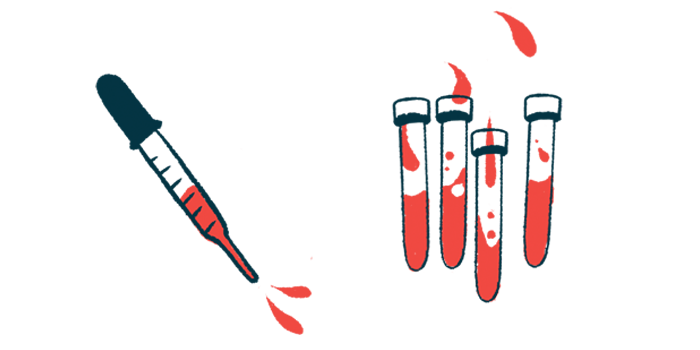 Red blood cell biomarkers may predict sickle cell disease (SCD) severity and the risk of vaso-occlusive crisis, according to a study that evaluated the FA-WB-VCAM blood test.
"Our latest research indicates that one of our clinically available red blood cell health tests called Flow Adhesion of Whole Blood to VCAM (FA-WB-VCAM) may be a plausible surrogate endpoint for SCD severity," Patrick Hines, MD, PhD, CEO and founder of Functional Fluidics, the company that developed the test, said in a press release.
The study, "Longitudinal assessment of adhesion to vascular cell adhesion molecule-1 at steady state and during vaso-occlusive crises in sickle cell disease," was published in the British Journal of Haematology.
A vaso-occlusive crisis (VOC) occurs when sickle-shaped red blood cells stick to blood vessel walls and block blood flow, depriving tissues of oxygen. As a result, VOCs can cause severe pain and organ damage.
But there is a lack of reliable biomarkers that can predict VOC risk and severity — and that could potentially identify SCD patients at risk of VOC complications in the early stages of the disease. Such early identification with cell biomarkers could help prevent organ damage.
Hines and his team developed a clinical test to measure the "stickiness" of sickled red blood cells to blood vessel walls.
"In the absence of blood-based surrogate endpoints, people living with sickle cell disease have had to suffer excruciating pain crises and organ damage to alert healthcare providers that they are in need of treatment," Hines said.
The FA-WB-VCAM test is based on the known interaction between protein receptor VLA-4 and protein VCAM-1. VLA-4 is found at high levels on the surface of immature red blood cells in SCD patients with frequent VOCs. VCAM-1 is found on the surface of cells that line blood vessels.
To evaluate the test, the team conducted ELIPSIS, a six-month observational study of SCD patients during at-home, steady-state periods (without VOCs) and self-reported VOC pain events.
A total of 33 people with SCD were enrolled along with four non-SCD healthy controls and 10 people with sickle cell trait — those who carry one defective hemoglobin gene, but do not have SCD symptoms.
Patients treated with hydroxyurea, a standard SCD therapy, must have been on a stable regimen for at least eight weeks (about two months) before the first study visit.
Steady-state blood samples were collected every three weeks for six months from SCD patients and for three months from controls. VOC samples were collected within 24 hours of a reported event, and VOC severity was assessed either at home or in a healthcare setting.
The analysis revealed that SCD samples were significantly more adherent (sticky) compared with non-SCD samples. There was no significant difference in blood cell adherence within the control and patient groups.
An assessment of the relationship between steady-state FA-WB-VCAM values and standard blood tests found weak correlations between higher adhesion (more stickiness) and increased uric acid levels, a kidney function marker. There also was lower hematocrit — a blood parameter that indicates the proportion of red blood cells in a blood sample — higher white blood cell counts, and higher levels of lactate dehydrogenase, a tissue damage marker.
Strong correlations were seen between higher blood cell adhesion values and lower fetal hemoglobin levels and a greater number of immature red blood cells. Fetal hemoglobin is a version of hemoglobin produced during fetal development that is more efficient at transporting oxygen than its adult counterpart.
C-reactive protein, an inflammation marker, and platelet counts were not related to adhesion values.
Based on combined steady-state adhesion values collected over six months, SCD patients were divided into two groups: high and low adhesion.
Over a two-year follow-up period after the initial ELIPSIS study, patients in the high adhesion group had significantly more emergency room visits, hospitalizations, and vaso-occlusive end-organ events (VOEEs), which were used to assess SCD severity.
"These data suggest that blood-based adhesion biomarkers obtained during steady state can stratify individuals with SCD into high and low risk categories based on their risk of future VOEEs," the researchers wrote.
Patients taking hydroxyurea had significantly lower steady-state FA-WB-VCAM values than those who weren't.
FA-WB-VCAM readings from blood samples collected from SCD patients at a steady state were lower than in blood samples collected during a VOC, but the difference was not statistically significant.
However, SCD participants with at-home self-reported VOCs had significantly higher FA-WB-VCAM values over steady state and VOC samples collected at the clinic, as compared with those managed in a healthcare setting,
"The adhesion bioassay utilized in this study provides clinicians an objective measure of adhesion in blood samples collected from SCD [patients]," the authors wrote. "The results of this study suggest that [sickle cell] adhesion … as assessed by FA-WB-VCAM, may be a surrogate for clinical disease severity."
"Additional studies in a larger prospective cohort are underway to definitively establish the predictive value of FA-WB-VCAM for impending VOCs, identifying SCD [patients] with severe disease phenotypes [manifestations], and to establish its role in therapeutic monitoring of SCD-modifying therapies," they wrote.
Hines said having a test that measured biomarkers and could evaluate the health of red blood cells would help healthcare providers to better identify those individuals at risk for severe disease outcomes. That would allow clinicians to intervene earlier.
"The bottom line is this: we have the tools to keep red blood cells healthy so people with sickle cell disease don't have to suffer," Hines said. "I am proud of the work that my team at Functional Fluidics and countless researchers and healthcare providers around the world are doing to keep our sickle cell warriors healthy."